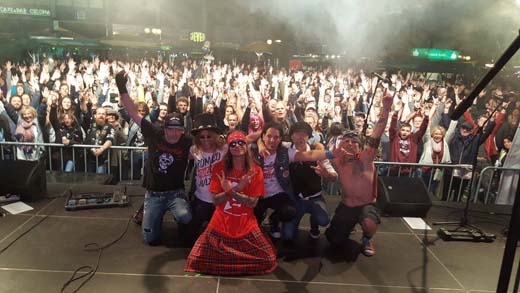 FÄLLT AUS
Freitag
13.03.20
TRIBUTE TO GUNS N'ROSES – Verschoben
Wann:
13.03.2020
Einlass:
19:00
Beginn:
20:00
Veranstaltungsort:
Zeche Bochum
Prinz-Regent-Str. 50-60
44795 Bochum
Zur Karte
Aufgrund der aktuellen Lage, muss das Konzert leider verschoben werden. Die Tickets behalten ihre Gültigkeit. Wir geben sobald wie möglich einen Ersatztermin bekannt.
Tickets für EUR 17,- zzgl. Gebühren und Versandkosten unter Zeche Tickets.
Einlass: 19:00, Beginn: 20:00
Tribute to GUNS N'ROSES – DUST N' BONES
DUST N' BONES was formed in March, 2004. with the mission to play the songs of the most dangerous band of rock n' roll history – GUNS N' ROSES – as faithfully as possible. The band plays material from the most successful era of GN'R from the beginning (1986) to the last gig of the classic lineup (1993).
During their live shows creating the accurate sound of GN'R – as well as the real Guns N' Roses experience – is more important than simply copying the look of the original members. During their career they have performed shows in more than 12 different countries, played at some of the biggest festivals (eg. SZIGET FESTIVAL/BUDAPEST and DONAUINSEL FESTIVAL/VIENNA) and performed in major clubs all over Europe, such as PLANET MUSIC/VIENNA (A), LIVE CLUB/MILANO (I), SIN CITY/ATHENS (GR), DIE ZECHE/BOCHUM (D) or BARBA NEGRA MUSIC CLUB/BUDAPEST (H).
In 2013 their former member, lead singer Torkos, moved to England and left the band. They had to continue with a new singer. The new frontman Sidd, came to the band and since then DN'B has been hitting the clubs and festivals all over in Europe stronger than ever!
Paradise City by Dust N' Bones (Guns N' Roses tributeband from Hungary)