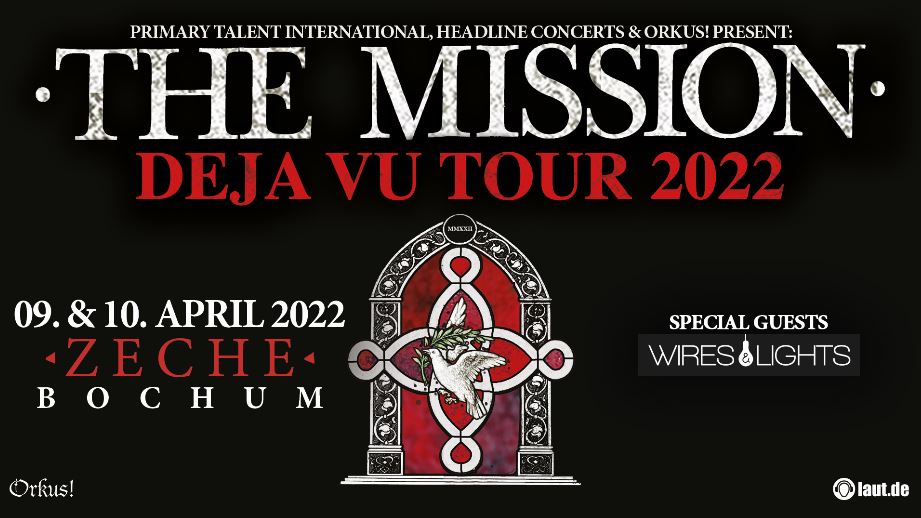 Sonntag
10.04.22
The Mission
10.04.2022
Einlass
18:00
Beginn:
19:00
Zeche Bochum
Prinz-Regent-Str. 50-60
44795 Bochum
Zur Karte
---
Ticket
Tickets sichern
Die Veranstaltung wurde vom 29.04.2020 und 11.04.2021 auf den 10.04.2022 verlegt. Die Tickets behalten ihre Gültigkeit.
Einlass
Seit dem 24.11.2021 gilt 2G für den Eintritt bei Konzerten
Das bedeutet:
Ihr müsst entweder
durchgeimpft sein ODER
zu der Gruppe der Genesenen gehören
In jedem der beiden Fälle brauchen wir einen entsprechenden Nachweis von euch, den ihr beim Einlass vorzeigt:
Von Genesenen benötigen wir einen positiven Corona-Test, der mindestens 28 Tage, höchstens aber sechs Monate zurückliegt.
Vollständig Immunisierte, deren zweite Impfung mindestens 14 Tage zurückliegt, können ihren Impfpass oder die entsprechenden verifizierten Einträge in der CovPass- oder Corona Warn-App vorzeigen.
In beiden Fällen benötigen wir zudem ein amtliches Dokument, wie z.B. euren Personalausweis oder Reisepass, damit wir eure Bescheinigungen zweifelsfrei zuordnen können.
The Mission – Déjà Vu Tour 2022
We're sure you'll remember us telling you a few week ago that our scheduled tour for this coming March-April had to be postponed (yet again) because of the global pandemic. We also promised to let you know the new dates as soon as we had all the relevant info.
So, all of us here at MWIS are very pleased to be able to tell you that – thanks largely to the hard work of our agent, Steve Backman and all the relevant promoters – the Mission's tour has once again been rescheduled for the same time next year, 2022. The tour, originally entitled 'The United European Party Tour' and scheduled to take place last year and which, in fact, did kick off with the band able to play 10 of the scheduled 55 shows before the lockdowns were enforced has now been re-christened 'The Déjà Vu Tour' and will kick off on Saturday 5th March, 2022, at Het Depot vzw, in Leuven, Belgium and will culminate with two nights at the Shepherds Bush Empire in London on Friday 22nd and Saturday 23rd April.
Special guests as confirmed for the the previous dates will remain the same – The Rose Of Avalanche for the UK, Gene Loves Jezebel in Portugal and Spain, and Wires & Lights in Germany, Austria, Switzerland, and Holland.
All tickets previously purchased for the 2020 and 2021 dates will remain valid for the new dates.
Wayne Hussey commented: "As cabin fever is kicking in for most of us by now – there are only so many Netflix shows one can take – I can only surmise that by this time next year everyone will be absolutely desperate to get out of the house and congregate in a big room with a bunch of like-minded souls to watch and hear a bunch of blokes nearing retirement age making a right old noisy din. In other words coming to see The Mission play the songs you know and (mostly) love and having a right ol' knees-up and singalong. "You are a tower of strength" to me will hold extra potency. I dunno about you but I can't wait."