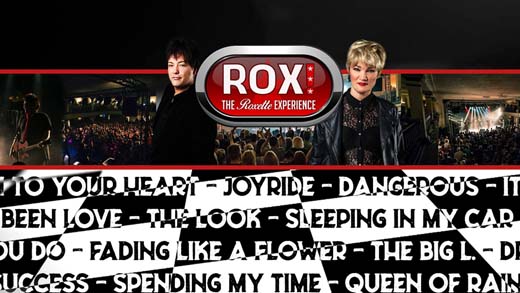 Freitag
13.10.23
ROX! – Tribute to Roxette
Wann:
13.10.2023
Einlass:
19:00
Beginn:
20:00
Veranstaltungsort:
Zeche Bochum
Prinz-Regent-Str. 50-60
44795 Bochum
Zur Karte
Join the Joyride!
Roxette is the most successful Swedish pop group after ABBA. Roxette owns a huge amount of TOP10 hits all around the world. Everybody knows "THE LOOK", "LISTEN TO YOUR HEART", "IT MUST HAVE BEEN LOVE" AND "JOYRIDE". Of course you can't easily forget jewels like "DANGEROUS", "FADING LIKE A FLOWER", "SPENDING MY TIME", "HOW DO YOU DO!" AND "SLEEPING IN MY CAR".
ROX! is definitely THE BEST EUROPEAN TRIBUTE BAND OF ROXETTE. They have The Look and Sound of this Swedish hitmachine.
ROX! offers a 90-minute Roxette Greatest Hits show, with songs that will get your feet moving and bring the feelings back you had when you heard all the classics for the first time!