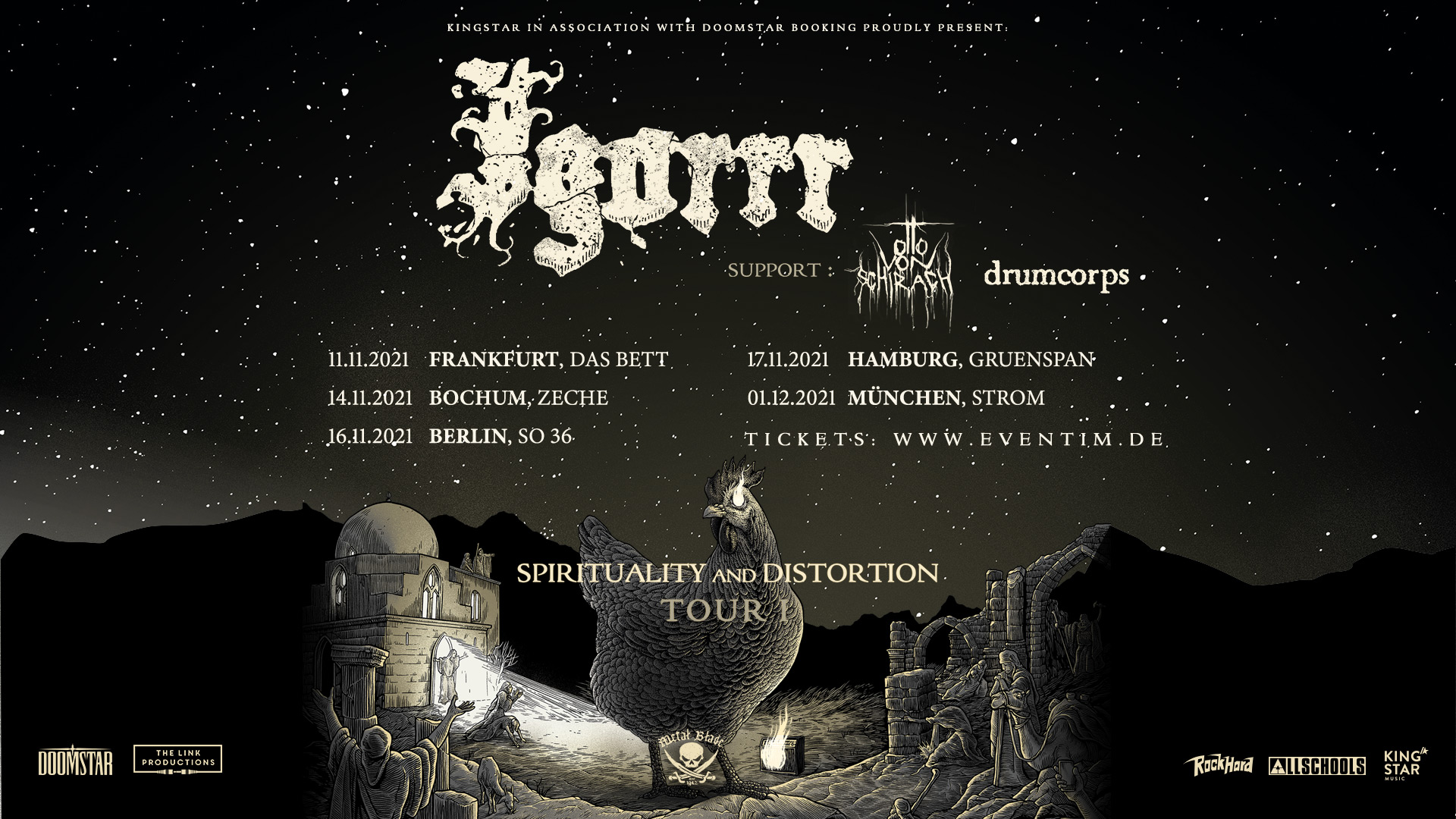 FÄLLT AUS
Sonntag
14.11.21
Igorrr – wird verschoben
Wann:
14.11.2021
Einlass:
19:00
Beginn:
20:00
Veranstaltungsort:
Zeche Bochum
Prinz-Regent-Str. 50-60
44795 Bochum
Zur Karte
Hierbei handelt es sich um den Ersatztermin vom 08.04.2020 / 10.02.2021. Die Tickets behalten ihre Gültigkeit für den neuen Termin am 14.11.2021
Auch der Ersatztermin im November 2021 wird noch mal verschoben auf den 11.04.22.

Einlass
Damit alles reibungslos funktioniert, müssen wir einige Regeln beachten (bitte genau durchlesen, damit es am Eingang keine Probleme gibt):
Bei uns gilt die 3G-Regel, d.h. ihr müsst entweder:
negativ getestet via PCR-Test, ODER via Antigen-Schnelltest ODER
durchgeimpft sein ODER
zu der Gruppe der Genesenen gehören.
In jedem der drei Fälle brauchen wir einen entsprechenden Nachweis von euch, den ihr am Einlass vorzeigt:
PCR-Getestete brauchen die Bescheinigung eines Testzentrums über einen negativen PCR COVID Test (digital oder schriftlich), der nicht länger als 48 Stunden zurückliegt.
Antigen-Schnelltest-Getestete benötigen einen, durch eine offiziell zertifizierte Teststelle abgenommenen Test, der bei der Einlasskontrolle nicht älter als 6 h sein darf
Von Genesenen benötigen wir einen positiven Corona-Test, der mindestens 28 Tage, höchstens aber sechs Monate zurückliegt.
Vollständig Immunisierte, deren zweite Impfung mindestens 14 Tage zurückliegt, können ihren Impfpass oder die entsprechenden verifizierten Einträge in der CovPass- oder Corona Warn-App vorzeigen.
In allen Fällen benötigen wir zudem ein amtliches Dokument, wie z.B. euren Personalausweis oder Reisepass, damit wir eure Bescheinigungen zweifelsfrei zuordnen können.
Kingstar presents: IGORRR
Plus Special Guests
Otto von Schirach
Drumcorps
Hierbei handelt es sich um den Ersatztermin vom 08.04.2020 / 10.02.2021. Die Tickets behalten ihre Gültigkeit für den neuen Termin am 14.11.2021
Hier das Statement der Band zur Verschiebung:
"THE SPIRITUALITY AND DISTORTION TOUR PART 1 IS POSTPONED
It is with the deepest disappointment, sadness and angriness that we are forced to postpone the Spirituality and Distortion tour Part 1. We have been working very much on this tour, me, we, as Igorrr, and our incredible tech crew, we have been working with no limits and no restrictions, days and nights to be able to propose you the best shows possible in the best clubs possible, we are incredibly upset to be forced not doing it.
What's happening is deeply unfair for many people and is a real danger for us, bands and music actors who are living from passion, giving everything and not making big profits at all, it's a real big blow.
To mitigate the pain, we will try to keep the release date of the album as planned, on 27th of March, and I really can't wait to share with you the music of it, but the tour will have to wait until the situation will permit us to tour again, in fact the whole tour is already rescheduled for next winter. Thanks to our booking agents for being so awesome.
This is really against our will that we are not taking the road this month as we were all very, very exited to do it. We had to leave home Yesterday actually, to start setting up the last details.
For your information, we are not in charge of refunding tickets and all this business part, we are just doing the music here, please get in touch with the clubs for any information about this.
We were also setting up a surprise for you guys as we have been investing all the money we had (no joke) in printing the most cool and high quality merchandising we have ever done, all organic cotton shirts and hoodies that we wanted to propose you during the shows ! Since we won't be touring in April, we'll probably launch an online shop instead, and sell this merchandising there. As our situation here as a band is very difficult right now, any support will be highly welcome.
See you as soon as the situation permit it again. We can't wait.
Love,
Gautier
P.S : when shows gonna start again, it's gonna be crazy…"