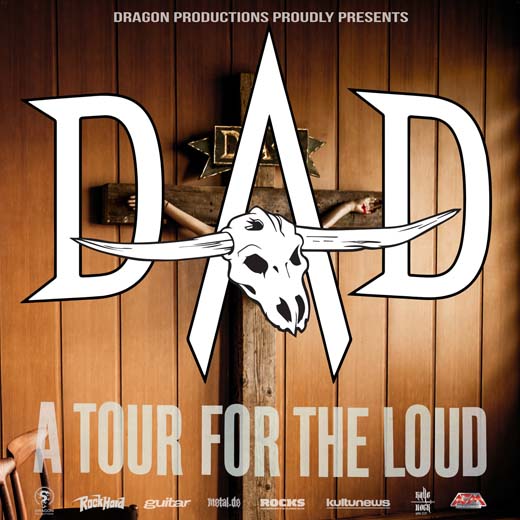 Donnerstag
12.12.19
D-A-D
Wann:
12.12.2019
Einlass:
19:00
Beginn:
20:00
Veranstaltungsort:
Zeche Bochum
Prinz-Regent-Str. 50-60
44795 Bochum
Zur Karte
Tickets für EUR 33,- inkl. Gebühren zzgl. Versand über Zeche Tickets.
Einlass: 19:00, Beginn: 20:00
Rock Hard, Rocks, Metal.de, Kulturnews, Kalle-Rock.de & Dragon Productions present:
D-A-D – A tour for the Loud
After the release of their new album "A Prayer For The Loud" last week and entering the Danish charts at #1, D-A-D announce the European leg of "A Tour For The Loud".
"This will be the real thing" says D-A-D's lead singer Jesper Binzer. "Playing festivals is fine and dandy, but an hour of D-A-D is just scraping the surface – shows in your local rock club will always be what Rock'n'Roll is all about – a sweaty gathering of the loud… and that's just what we'll be doing! What about you? Are you coming?"
24 shows and 9 countries in 4 weeks.
A real tour for the loud!